I started this sweater in November of 2009.
I knit it as the pattern was written - it was Mr. Greenjeans and was supposed to look like this: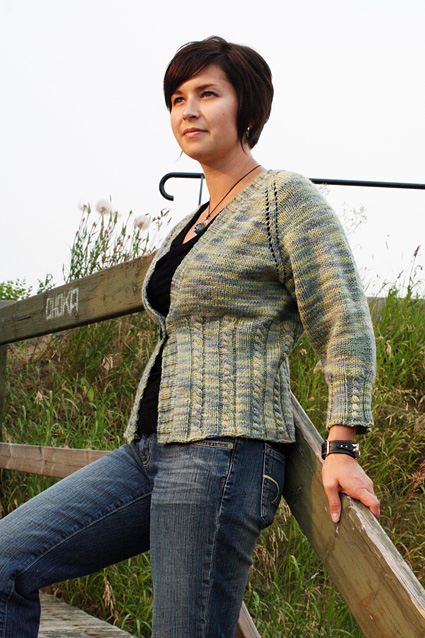 In June of 2010 it looked like this. I hated it. The ribbing made it too tight where it was and the top was too loose. It was ugly.
So, in February of 2011, I ripped the button bands out (they are picked up and knit) and then ripped out the entire 10 inches of ribbing. I reknit the bottom of the sweater and the ribbing and the button bands.
I finished it in March of 2011. I loved the new it. I loved the fit, the color, the shape, the warmth - everything.
Then I washed it, blocked it and went to dry it.
I stuck it on the rack in the dryer to air dry it.
But one sleeve fell off the rack and rubbed on the barrel in the dryer and felted.
Bummer.
But when I finished it, I had an extra hank of yarn and when Dena was here I had given it to her. So I called her and asked her to send it back, swearing that I was going to cut off the felted part and reknit the sleeve and have a sweater.
I would like to tell you that she just finally remembered to mail the yarn, but she sent it promptly when I asked. I stuck it and the sweater in a bag and hid it away under the sewing machine.
Until a few days ago.
I dug the sweater out of it's hole and took a pair of scissors to it.
Lest you think this is just a small hunk of sleeve, I cut all the way past the underarm.
Then I picked up the loose stitches and put them back on a needle. I attached the yarn Dena sent me and started knitting. I looked on Ravelry for needle size but it was wrong. I knit about 4 inches and kept hoping it would get right, but it never did so I had to rip that out. I went up a needle size and repeated the same mistake. My gauge was still off after another 4 inches so I ripped again.
Finally on the third try, I got the needle size right but there was still a funny ridge where the new knitting started. I left it hoping it would come out when I gave the sweater a soak. (Not sure if it did or not - sweater is still drying).
These were the buttons I had put on it when I finished it the second time.
They are much blacker in person and really didn't look good on the sweater.
I've been collecting vintage buttons since Stitches South where we found some wonderful buttons. So I decided that some of them would look much better. These are the ones I picked.
See? They look much better.
This is the finished sweater. Sorry - no modeled shots because I have no photographer - one girl is still busy and the other is still mad. Trust me it looks great and feels great. I've been wearing it all weekend because it's chilly here (at least chilly for the deep south). I finally dunked it this afternoon and it's on the bed drying. When I pulled it out of the water, I found a little hole in the front - not sure where it came from but it won't be a big deal to take a little piece of yarn and fix it right up.
I love this sweater. I wish I hadn't let it take three and a half years to finish it.
Teresa